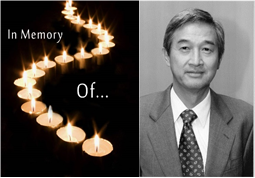 It came to our knowledge that the Secretary-General of FSTE in the earlier days, Mr Cheung Po Tak Peter (張寶德),  passed away in June 2023.  While we are still adjusting ourselves to the sad news and our great loss, we would like to make known that Mr Cheung's family seeks to honour his wish of simplicity: there will be no memorial service.
Those of us who remembers Mr Cheung would certainly celebrate his life and appreciate his invaluable contribution.  Anyone who knows him, or had worked with him, would find him a legend* with a high level of persistency, resiliency, adaptability, and a bank of knowledge.  We were fortunate to have him leading the humble Secretariat office of FSTE from 2008 to 2014.  During his tenure, he strengthened the Secretariat into a well-established work force.  The Secretariat is forever grateful for his unwavering support, which included his attendance to FSTE events as far as possible even after his retirement.  Our heart and blessings go to his family.
*His wealth of multi-talented and multilateral work experience kicked off from being a clerical assistant with the Government and retired from 38-year civil service career at the rank of senior directorate at various departments and positions.  He was tied to the higher education sector ever since he was posted as the Secretary-General of the University Grants Committee (Hong Kong Government).  Later he joined the Hong Kong Council for Accreditation of Academic and Vocational Qualifications as its Executive Director, and then moved on to be the Secretary-General of FSTE before his actual retirement.  Besides to Hong Kong's Higher Education, he contributed to the regional and international community as well.