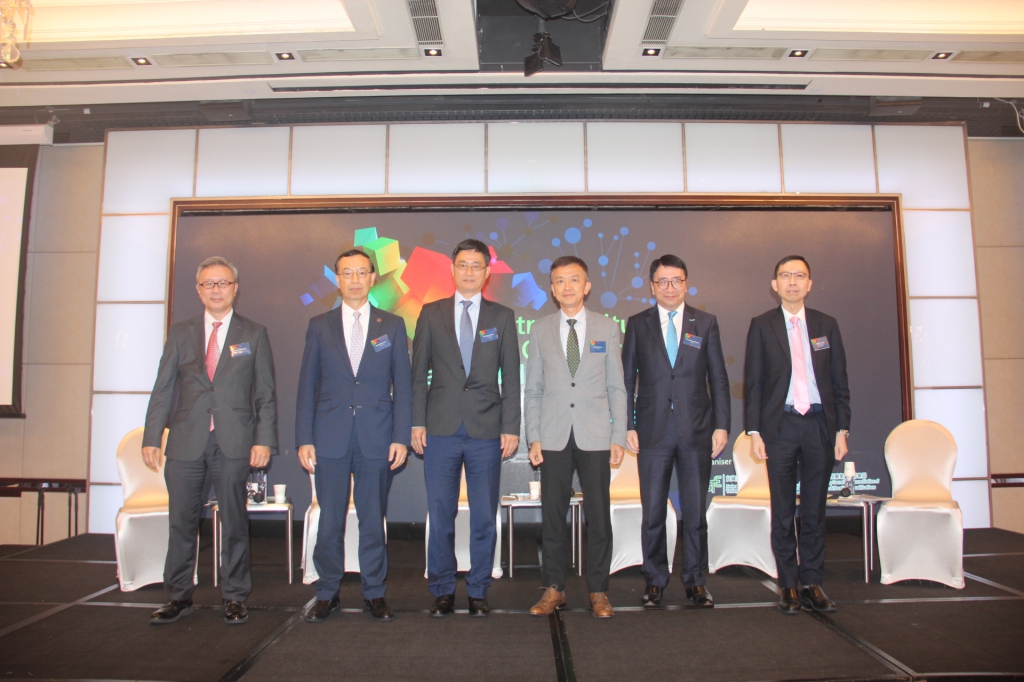 (From left to right): Professor Ronald CHUNG, Dr Kim MAK, BBS, JP, Mr Esmond LEE, JP, Dr Daniel YIP, JP, Dr Lawrence CHEUNG and Mr Albert CHOW
Amidst the proliferation of technology advances and dominance by Information Technology (IT) and innovation of the 21st century, the tertiary education institutions should be navigating through all these challenges thus posed through industry-institution collaboration and lifelong learning to bring about the necessary transformation for success.  Students should always be the centre of education and "bringing humans back to the centre of education" should be a mission commonly shared by all institutions.
Organised by FSTE and co-organised by HKCAAVQ, representatives from academia, industry, professional bodies, think tank, NGOs, and the Education Bureau (EDB) attended the captioned Conference on 9 June 2023, achieving an exceptionally high attendance rate of 83%.  The Conference featured five esteemed and accomplished speakers from the industries, institutions, and EDB, who delivered very informative and insightful speeches covering the three dimensions of industry-institution collaboration, lifelong learning, and employability.
The Opening Remarks by Professor Ronald CHUNG affirmed the pivot and imminence of the Conference theme, and that by Mr Esmond LEE, JP, clearly addressed the Government's policy directions and vigor in the implementation and promotion of Vocational and Professional Education and Training (VPET).
Dr Lawrence CHEUNG, a keynote speaker, sparked off interests and provided insights in the importance of industry-institution collaboration and adaptability in this fast-changing world of the new industrialisation, and gave advice on sustainability in time of huge changes in technology.  Mr Albert CHOW then presented an informative report on the Development of Applied Degrees in another keynote speech which has been proven to be a very successful collaboration amongst EDB, HKCAAVQ and the four selected institutions, and provided vital suggestions on the positioning and the way forward.
All the five speakers of the Roundtable Discussion were in complete accord with the theme "Bringing Humans Back to the Centre of the Education Process" and delivered very generous sharing of their valuable experience and insights from respective unique perspectives, embracing voices from the major stakeholder groups: the institutions (Dr Kim MAK), the Government (Mr Esmond LEE, JP), the industries (Dr Daniel YIP, JP & Dr Lawrence CHEUNG), and HKCAAVQ (Mr Albert CHOW).
The Q&A of the Roundtable Discussion, led by Professor Ronald CHUNG, was evident of open and proactive exchanges between the participants and the speakers with questions and sharing surrounding the theme of the Conference, e.g., the impact of technology on student assessment, impact of technology on human, secondment of academic staff to industries, development of Applied Degrees, etc..
The Conference was a successful advocacy effort for "Industry-Institution Collaboration and Lifelong Learning".  We all agreed to the human focus of education and placed the students at the centre of education.  FSTE will continue to stage more meaningful and fruitful exchanges on these agendas, so please stay tuned with us!
13 June 2023