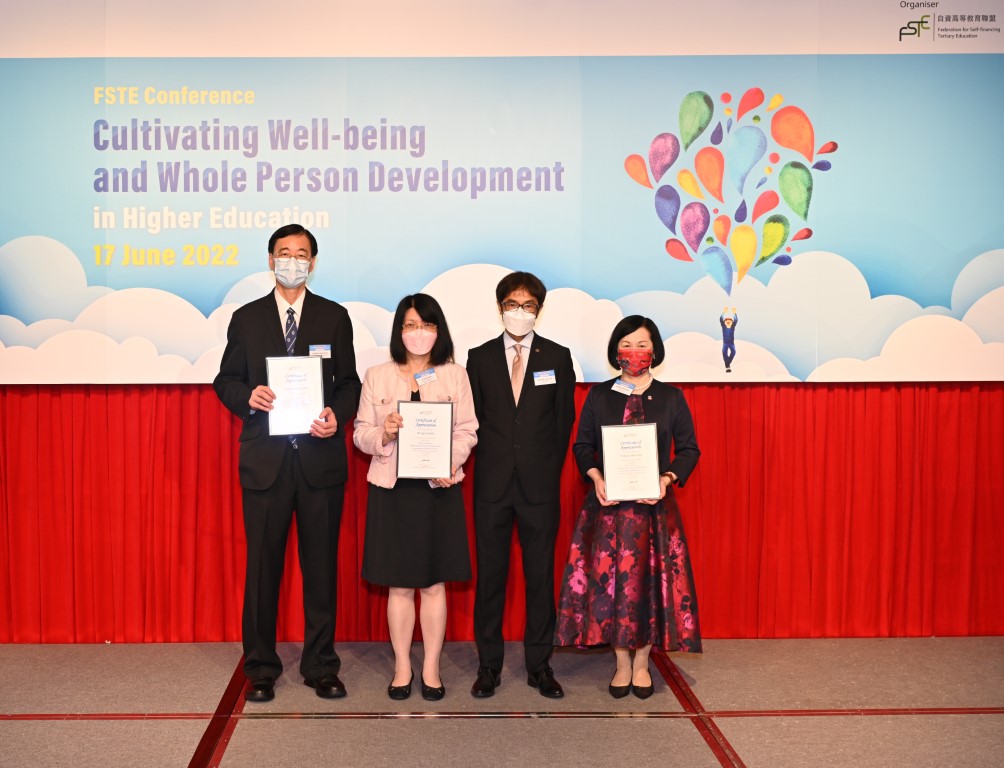 We are thankful for Prof Daniel Shek (left), Prof Sally Chan (right) and Dr Sylvia Kwok (2nd to the left) sharing insights and experience on how to better support young persons from perspectives of service learning, e-mental health, and Teaching & Learning this morning; and Prof Peter Yuen (2nd to the right), Chairman of FSTE Research & Development Committee, being the moderator.  31 colleagues in the Sector also exchanged their views via 11 paper presentations on well-being & development from the angles of educator & student as well as campus life & whole person development.
Highlights
Riding on the belief of "every student can shine" and knowing that self-financing students may have different goals/values as most of them may prioritize obtaining professional qualifications or getting good results to articulate to UGC-universities, Prof Daniel Shek shed us some lights on how to incorporate those belief and the value of the development of intrapersonal and interpersonal competences into self-financing sector.
The self-financing sector is deploying more online/digital tools to support students' mental health, and FSTE administered sector-wide mental health screening to identify at-risk students of scheme-participated institutions, one might argue that this would create more problems to institution(s) not equipped with sufficient resources for follow-up support. Prof Sally Chan shared her thoughts on the matter as well as her experience and reflection on using e-mental health interventions in Australia and Hong Kong.
Aiming to promote university students' well-being, enhance their resilience and nurture them to be socially responsible citizens, a 3-year project, Joint-University Mental-Wellness Project (JUMP), was launched by five universities in Hong Kong.  Dr Sylvia Kwok presented the positive results observed from JUMP, and was invited to express her views if the project could provide self-financing sector a framework for replication.
About the Conference
Funded by Quality Enhancement Support Scheme (QESS), the Conference provided a unique opportunity for sector-leading experts and practitioners in higher education and social service to explore latest development, new challenges, as well as emerging and established practices in supporting and promoting mental health and well-being in higher education.  Click here for details of Keynote Speeches and Presentations.
17 June 2022